Welcome
Absolute Metrology Services has over 20 years of experience in high-level interferometry and optical test. Our first priority is to provide you with accurate test results. Our second priority is to give you quick part turnaround. We provide a formal test report for your measurements and offer a 'walk through' of the report over the phone for greater ease and efficiency. AMS does not sell metrology equipment or optics; our focus is to provide the most accurate optical metrology. We take pride in our top-notch customer service.
Metrology Equipment
The most common measurement requests (and equipment used) include:
Flat and spherical form and certifications (Verifire™MST)
Radius of curvature of spheres (VeriFire™ATZ)
Roughness, waviness, and texture (NewView™7300)
See our Optical Testing Services page for a more complete listing.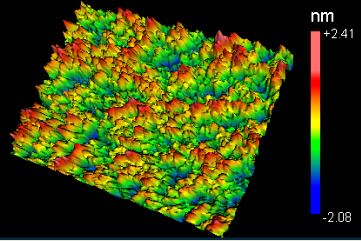 3D model of a roughness measurement on polished glass, performed on a NewView™7300 interferometer.